Zimbaweans in South Africa only temporarily, says Mujuru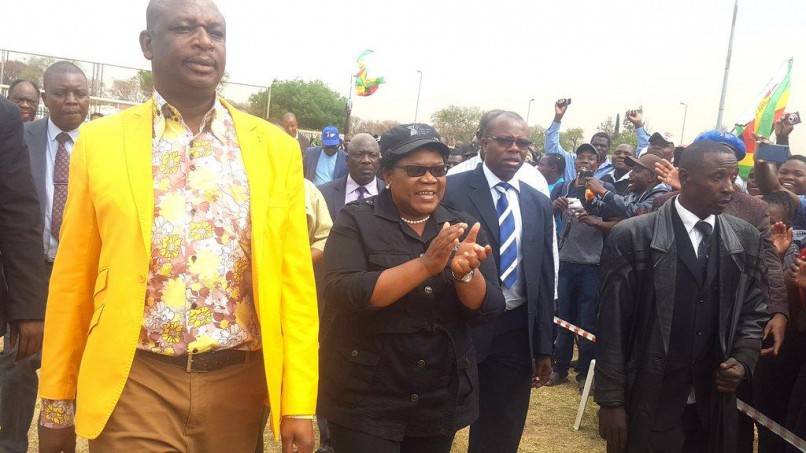 'I want to thank them so much for the efforts they are giving for Zimbabweans. I know it's very difficult to look after our young children of this magnitude'
Zimbabweans living in South Africa and numerous other countries should always remember that the current phase will pass, former Zimbabwe vice-president and now Zimbabwe People First leader Joice Mujuru said on Saturday.
"Our aim was to come here, be with our people, and to tell them that you are not here forever. We understand and we know the suffering they are going through here in South Africa," Mujuru told reporters in Mamelodi in Pretoria after her "star rally" attended by Zimbabweans living in South Africa.
"I'm sure it is also a relief to the South African government when they see some of us coming to talk to our kith and kin, to tell them that it's just for a short while. It is also heavy for the government of South Africa to keep such a crowd of our youngsters – very difficult to control."
She said as a nation, Zimbabwe was not poor, but the country's ills emanated from endemic mismanagement of resources.
"We're questioning the management. Why is it that we are not using our resources to the fullest so that we are able to develop our industries. Our young people should be able to graduate and find jobs or become employers there at home. We've a lot of things that have gone bad or dilapidated because we don't have the workers."
Mujuru said her trip to Pretoria was also a gesture to thank the South African authorities who had hosted millions of people from their northern neighbour.
"I want to thank them so much for the efforts they are giving for Zimbabweans. I know it's very difficult to look after our young children of this magnitude," said Mujuru.
Regarding the atrocities of Gukurahundi, which left more than 20,000 people dead in Matebeleland when she was in the Zanu PF administration, Mujuru said she was now reaching out to the affected communities.
"What I'm asking myself is 'when did all this happen?' It was when I was part of the administration. Now that I'm out, people can see that I am now free to listen, to accept, and to work with them. I haven't yet gone to the graves because it is not yet my responsibility. This is not a responsibility of an individual, it's for the country," said Mujuru.
Earlier, before Mujuru arrived at the Mamelodi stadium, members of the South African Police Service (SAPS) and the Tshwane metro police rushed to quell tempers as some activists invaded the pitch, demanding answers over the emotive Gukurahundi massacres.
The pair was swiftly manhandled by Mujuru's supporters as they fought back. They were taken away and police intervened, escorting them out of the stadium.
Zimbabwe's Gukurahundi massacres saw up to 20,000 villagers and opponents of then prime minisater Robert Mugabe killed in the mid-1980s and remains a salient, thorny, and highly controversial political hot potato in Zimbabwe.
Memories of the killings, carried out by the country's elite North Korean-trained fifth brigade army unit in the south of the country, are strong among many in Zimbabwe's Ndebele ethnic group and contribute to their distrust of Mugabe and Mujuru who was a cabinet minister then and wife of the late general Solomon Mujuru who was the country's chief military commander at the time.
Mugabe offered a part-apology for the killings in 1999, saying they were "a moment of madness"